Healthcare
Pervin/Perlan was developed at the end of the 1970s, primarily for healthcare applications, so it is no surprise that today half of all Pervin/Perlan products are aimed at this field. For healthcare purposes, the ideal weight, in terms of the price/quality ratio, is 45g/m2. For healthcare, Pervin/Perlan is produced both in the classic version as well as in the WP version, with an impermeable layer of pliant laminate on the underside of the textile. Pervin/Perlan and Pervin/Perlan WP have been certified for direct contact with the skin and have been awarded a CE certificate. The material is easy to sterilize and print for promotional purposes with special resistant, healthcare-certified inks.
For healthcare, Pervin/Perlan is manufactured in a wide range of sizes and products. It is used most often for various hygienic pillows and sheets for patients, wipes, towels, bibs, rugs, flannels, etc. Apart from being available to healthcare with impermeable coating, it may also be obtained in rolls.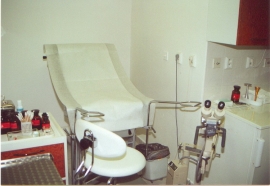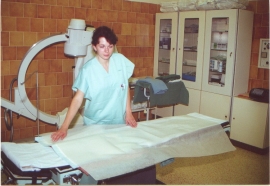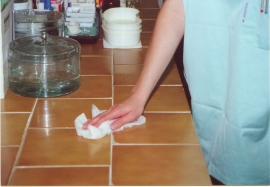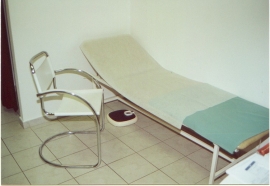 PERVIN/PERLAN WP: A specific chapter of Pervin/Perlan is the WP (waterproof) version. Pervin/Perlan WP is based on the classic Pervin/Perlan, while there is an additional thin layer of impermeable laminate on the underside, like a kind of membrane, which does not allow liquids to penetrate through to the bedclothes, yet is breathable in the opposite direction. This thin layer of laminate ensures that any kind of bodily fluids coming into contact with Pervin/Perlan are trapped in the absorbent part. The underside of the laminate is breathable, meaning that the material retains the properties of classic Pervin/Perlan or another kind of textile sheet. The breathability of Pervin/Perlan is highly important when used to make pillows or sheets for patients, as the patient's body receives constant ventilation from the side of the bed linen; this does not happen when plastic sheeting, for example, is used under sheets. The laminate used in Pervin/Perlan WP nonwoven textiles is soft, pliant, non-slip, does not rustle and is pleasant to the touch. To make it easier to distinguish from classic Pervin/Perlan, we produce it in an attractive green colour.